© LBP

© Rahim Karimi

© LBP

© LBP

© LBP

© LBP

© LBP

© LBP

© Rahim Karimi

© LBP

"Iran can be considered as one of the ancient world's empires, which methodically and actively was devoted to the development of the art of dance. For this ancient nation, dancing has been an important social phenomenon and a religious ritual."
- Nima Kiann

Introduction | Pre-Islamic Era | Post-Islamic Era | Contemporary Era

persian dance and its forgotten history

THE ERA OF PAHLAVI AND MODERNIZATION OF IRANIAN CULTURE AND ARTS

The rise of Pahlavi dynasty meant a methodical concentration on modernizing the country. During the years to come many efforts were made in order to compile and develop different styles of dance; from prehistoric folkloric dance, which is left from the Persian original dance, to the classical ballet and contemporary choreographies inspired by Persian culture and heritage.
The history of Iranian ballet traditions starts from 1928, when Madame Cornelli gave her very first lessons in classical ballet and continues until early 1980's, when the last signs of public dance disappeared. Madame Cornelli who was a Russian immigrant, and later other pedagogues with Armenian origin such as Yelena Avedisian, known as Madame Yelena, and Sarkis Djanbazian trained children in Tehran, Tabriz and Qazvin. These pedagogues were all educated in Russia before migrating to Iran escaping the Bolshevik revolution of 1917. Later on, the dance ensembles of the Armenian masters received governmental support and toured to the different parts of the country.
Madame Yelena, immigrated to Iran in 1933. She moved to the city of Tabriz with her Iranian-Armenian husband, where she shortly thereafter started her dance school. In 1945 she moved to Tehran and established her school in the Iranian capital. In 1962, she established the "Song and Dance Ensemble" with the participation of her 150 students. Alike the choreographies of Djanbazian, her repertoire included works with Persian historical and folkloric themes. "Rose of Shiraz", "Song of the Canary", "Gulnara", "Portrait of a Patriotic Girl", "Fire Dance", and "Fountains at the Ferdowsi Square" are among her creations.
During the 1930's, 1940's and 1950's a new kind of entertaining dance was developed. Known as a popular dance it had its roots in Qadjar traditions and was practiced as a solo improvised dance. It was performed by ordinary people and aimed only as entertainment at private gatherings and parties. This kind of dance did not have any artistic value, but became more and more popular and new stiles were developed. Motrebi, Ru-hawzi, Baba Karam, Shateri and Tehrooni were performed by people as solo improvised dances! This genre of popular dance was widely adapted in Iranian movie productions of the time.
In early 1940's Nilla Cram Cook, who had a vast knowledge about Eastern cultures was serving as the cultural attaché of the US Embassy in Tehran. She was later employed by the Ministry of Education and Propaganda in Iran as director general of the Arts Department. Due to her devotion to the Iranian culture, she formed a dance ensemble in 1947 in order to create choreographies that were inspired by the Iranian literature, poetry and folklore traditions. The company that she started with young Iranian dancers, "The Revival of Iranian Ancient Arts" was the first professional ballet company in Iran and was active until ca 1953 touring nationally and internationally, mostly in the Middle East.
By the initiative of the Ministry of Culture and Arts, "National Ballet Academy of Iran" was formed in 1956 by Nejad Ahmadzadeh. Two years later, in 1958, the fundaments of the "Iranian National Ballet Company" was laid in parallel with the formation of another dance group with folkloric and Persian traditional themes: "National Folkloric Music, Song and Dance Ensemble". Practically, the members of the both companies were the same but the repertoire of each company presented different dance styles.
Groups of experts were sent to villages and far-fetched provinces of Iran to gather material and to make an in depth study of Iranian folkloric dance, music and traditions. Both the classical company and the folkloric ensemble toured nationally and performed in the presence of all the state guests of the government including many royal families and presidents of the East and the West such as the Queen Elisabeth of England, King Hassan II of Morocco, Presidents De Gaule of France, Yahya Khan of Pakistan, Chaussesco of Romania, Nixon of USA, etc.
As its first international introduction, the "National Folkloric Music, Song and Dance Ensemble" participated in the International Folk Dance Festival in Turkey, in 1959. Later in 1964 the troupe made an extensive tour in Pakistan, Afghanistan, Tunisia, Morocco, the USSR and almost all East European countries. The ensemble gave also a week of performances at the Iranian pavilion in Canada at Expo 1967 and Expo 1970 in Japan. Another considerable tour in the USSR, Afghanistan and Tunisia was organized during 1968-69.
More and more dancing became accepted in the traditional Iranian society and thanks to the devoted work of Iranian dance enthusiasts, it was developing to a popular form of art. Dance was considered as a lowly means of entertainment in Iranian culture but found its rightful place among the Iranian performing and theatrical arts during 1960's and 1970's. Eventually, by the end of 1970's, dance was a recognized and well-established form of art.
As from the start of the Iranian National Ballet Company and National Folkloric Music, Song and Dance Ensemble in 1958, ballet and folkloric dance became institutionalized in Iran and received extensive governmental support. The Ministry of Culture and Arts invited ballet masters and choreographers from Europe and the United States to come to Iran and together with the Iranian ballet veterans develop the national ballet company.
Nejad Ahmadzadeh was sent by the Ministry to the United States to visit and study different opera houses and concert halls. At his return he helped to establish the technical, administrative and artistic sections of Tehran's newly built "Roudaki Hall Opera". The National Ballet Academy of Iran that was once organized by the American William Dollar was also flourishing during this period of time and moved to new premises. Ballet masters and choreographers were frequently invited to the country. Roudaki Hall Opera was inaugurated officially by Mohammad Reza Shah Pahlavi and Empress Farah on the occasion of coronation festivities in Iran on October 26th, 1967. Two weeks of full house performances by international ensembles marked the occasion. Numerous orchestras, opera singers and dance companies such as Yehudi Menuhin, Elisabeth Schwartzkopf, Grands Ballets Classiques de France, Los Angeles Philharmonic Orchestra, Moscow Symphony Orchestra, and more were invited to perform.
Dame Ninette de Valois who on the invitation of the Ministry of Culture and Arts went to Tehran in 1958 for establishing the institutionalized classical dance in Iran, sent many of her dancers, ballet masters and choreographers from the Royal Ballet to teach and stage ballet productions.
In 1965 Robert de Warren who came to make a great contribution to the Iranian dance was sent to Iran by Dame Ninette de Valois. He was serving as ballet master and principal choreographer of the Iranian National Ballet Company until 1967 when he left to direct the "National Folklore Society of Iran". De Warren left the ballet company to study national folk dances and later form the "Mahalli Dancers of Iran", the affiliate dance company to the National Folklore Society of Iran.
When de Warren left the ballet company in 1971 to study national folk dances and later form the "Mahalli Troupe of Iranian Folk Dancers", the first Iranian prima ballerina Aida Ahmadzadeh (the wife of the founder of Roudaki Hall) succeeded him as director.
Other guest ballet masters and choreographers that were invited to work with the Iranian National Ballet included Anne Heaton, Vakhtang M. Chaboukiani, Ann Cox, Miro Zolan, Sandra Vane and others. A varied repertoire was developed and collaboration with American and European dance establishments in cities such as New York, Paris, London and Brussels increased.
The world famous ballet artists, Rudolf Nurejev and Margot Fonteyn, visited Iran in 1967 to dance the Swan Lake and Le Corsaire on the national scene. in 1969, a prominent Iranian ballet dancer, Bijan Kalantari, graduated from the School of Metropolitan Opera and Ballet visited Iran to stage a ballet production called "An Evening of Ballet" with the participation of other Iranian ballet dancers and their partners, working in the USA and Germany. This was the first time that Bijan Kalantari, Haydeh Changizian and Ali Pourfarrokh performed at the Roudaki Hall Opera.
In 1967 an international festival was started that developed to one the most important cultural happenings not only in the Middle East but also in the world. Shiraz Arts Festival was a decentralized festival that was arranged each year in the city of Shiraz or forty miles northeast at the Achaemenid ruins of Persepolis and Naqsh-e Rostam. Eleven Festivals were organized until 1977 hosting a great range of most prominent artists presenting an extremely rich variety of music, drama, dance and film productions. Dance artists and companies that were presented during Shiraz Arts Festival included Maurice Béart, Merce Cunningham, Alwin Nikolais, Andy Degroat to name but a few.
In the fall of 1969, Bijan Kalantari established a new ballet department at the Tehran's Music Conservatory, supported by the Ministry of Culture and Arts. Kalantari, who had collaborated with prominent choreographers like Serge Lifar, introduced a modern pedagogic system for classical ballet at his school. Before moving to his native country, he had worked with ballet companies such as New York City Ballet, Metropolitan Opera and Ballet, Dallas Ballet and Kansas Ballet.
The Iranian National Ballet Company grew steadily from approximately a dozen to about 50 dancers, one third of them Iranians. The company became an internationally known ballet ensemble and developed a varied repertoire of classical and contemporary ballets. The young company was soon famous as the best and the most respected of all ballet companies in the Middle East. It became most known among companies of Azerbaijan, Tajikistan, Turkey, Egypt and other Middle Eastern and Central Asian companies. Membership of the company became popular and attractive among talented dancers of Europe and the United States. Many foreign ballet stars and prima ballerinas, for instance from the Bolshoi Ballet, were invited to dance at the premieres.
Haydeh Changizian, who was a pupil of Madame Yelena and later continued her dance education at Institute Für Bühnen Tanz in Köln and the Kirov Ballet School in Russia, was employed at the Roudaki Hall Opera as a principal dancer. At that time she was engaged with the Frankfurt Opera Ballet. The Ministry of Culture and Arts was determined to encourage the Iranian ballet artists who were engaged abroad, to return to their homeland.
Thus Haydeh Changizian moved back in Iran in 1972 and performed leading roles of the repertoire of the Iranian National Ballet. Among her best interpretations are ballets from the classical repertoire such as Giselle, and Zarema in the "Fountain of Bakhchisarai".
The repertoire of the company consisted of both classical and contemporary ballets. New versions of old classics were presented, like the Persian history of "Scheherezadeh" (Shahrzad), choreographed by Ann Heaton after Fokine. New choreographies based on narrations and themes with national character were also produced. In 1971, Robert Thomas created the modern ballet "Myth of the Creation". "Bijan and Manijeh", the company's first full-length Persian classical ballet, choreographed by Haideh Ahmadzadeh and Robert Urazgildiev, had its premier in 1975. Prominent Iranian musicians Melik Aslanian and Hossein Dehlavi composed the music of these ballets.
Ali Pourfarroukh succeeded Nejad Ahmadzadeh as the artistic director of the company in 1976. Two years later in 1978, Haydeh Changizian left the company after many disputes and disagreements with the new direction and intended to establish her own organization "Haydeh Changizian Ballet Institute" including a ballet school and a dance company. The project was initiated under the protection of the "Niyavaran Cultural Center" which contributed to the flourishing of many cultural events in the country. She embarked on collaboration with Royal Academy of Dance in England and its artistic director Sir John Field.
To follow in the footsteps of Bijan Kalantari and other choreographers who had tried to create nationally inspired dance companies, Changizian aimed also to create a repertoire that was characterized and influenced by Persian mythology and literature. Assisted by the Royal Academy of Dance, an audition was arranged in London and some dancers were even selected for the company. But her plans were spoiled and her project was never realized because of her lack of administrative and operational experience and also the escalating political upheavals in the country.
The 1970's is a very important and significant decade for the development of the Iranian dance traditions. Dance as an art form became increasingly popular and practiced by aspirants among the ordinary people. The monopoly of this art form for the upper class was broken. Dance spread out into different social classes of the Iranian society.
Eminent Iranian composers contributed to the popularization of dance. As such, Aminollah (André) Hossein, father of the French actor Robert Hossein, composed several symphonies among them, "Persian Miniature", "I Love My Country", Symphony Persepolis" and "Scheherazadeh" (Shahrzad), which was choreographed by George Skibine, one of Serge Diaghilev's dancers.
During this period, the international mega stars of ballet and contemporary dance including Maurice Béjart, Alvin Ailey, Martha Graham and Birgit Cullberg visited Iran to stage works in the Roudaki Hall Opera or to create choreographies for the national company.
Thus the Iranian national stage developed to a prestigious center for the art form of dance in the entire Middle East. Great choreographers found inspiration to create works based on Persian heritage. Maurice Béjart choreographed "Farah" and "Golestan", exposing the Iranian culture internationally.
Other domestic companies also flourished with varied quality and directions. One of these was "Pars National Ballet", established by Abdollah Nazemi. In spite of its name, the company produced mainly folkloric and traditional dance and often performed on the Iranian National Television.

ISLAMIC REVOLUTION: DANCE, A GREAT SIN AND BANNED

The Islamic revolution of 1979 implied the end of a successful era for dancing and the art of ballet in Iran. The result of many decades of toil and passionate work was lost when a new theocratic regime came into power. The national ballet company was dissolved and its members were forced to emigrate to different countries or leave the profession.
According to the descriptions found in early Islamic discourse reflected in the principles of "cultural revolution" agenda of the Islamic regime, dancing is considered to be perverse, a great sin, immoral and corrupting. Consequently, the last signs of dancing disappeared in the same country that during thousands of years did great contributions to this art form and had it as a respected court ceremony.
The revolution has moreover resulted in the biggest emigration of Iranians from their native country, in its thousands years of existing history. Today, the Iranian Diaspora reaches out to the entire world. A great number of the country's intellectuals, artists, writers, scientists, politicians and other categories of society have chosen to leave the country and to live in exile.
Also many profiles of the Iranian ballet moved to the west and spread out mainly in Europe and the United States. Some of them were employed in European and American theaters and Opera Houses. Others like Haydeh Changizian left their careers for all future. As a nostalgic retrospect to her short-lived career, she staged a self-produced performance, being called "In Memory of Roudaki Hall" in California in 1982.
The last artistic director of the National Company, Ali Pourfarroukh, was engaged after the revolution in Essen, Germany as ballet master. Later he became the artistic director of the "Dance Theatre of Long Island" in the USA and "Alberta Ballet" in Canada, pursuing a successful ballet director career.
Fortunately, the oblivion of the art of professional dance since the February revolution of 1979 did not mean the end of this Persian heritage forever. A new generation of Iranian ballet artists has emerged in the diaspora. Many young Iranians became interested in ballet in their exile, and educated themselves to talented ballet dancers, even choreographers.
Afshin Mofid and Maryam Mahdaviani joined New York City Ballet, Shirin Kiani was engaged in Santa Barbara Ballet, Susanne and Fariba Arbabzadeh performed with Het National Ballet. Amir Hosseinpour, has created several works for Paris Opera, Royal Ballet in London, La Scala in Italy and Bayerische Staatsoper in Germany etc.
There are also some Iranian dance groups that have been established abroad since the revolution, most of them with a folkloric character and privately financed. The consequence of the difficult economics has sadly been the loss of quality and a commercializing of the art. One exception is the efforts of the American dance researcher and connoisseur, Dr. Anthony Shay. He is one of the experts of Persian folkloric dance and has made several productions in his "Avaz International Dance Theatre" in the USA.
Dance as an art form has been banned since the revolution in Iran. However, the character of dance as a human phenomenon has anyway made it to not disappear completely from society. Despite the prohibition, it has been performed in private gatherings even if its discovery in most cases has resulted in punishment of the aspirant.
The attempts of reforms during the past few years have made, periodically, few liberalizations in the Iranian society. Teaching of dance has been occasionally allowed to women and only by women. No man is allowed to practice or to even watch when the opposite sex is exercising.
For the first time since 20 years, an Iranian magazine "Iran-e Javan" (The Young Iran) published an article in March 2000, which very carefully discusses the issue of dance and the need of this artistic expression in the society. The writer openly tried to refer to religious verdicts in order to legalize dancing. The headline was: Oak, I desire a dance among people in the middle of the square!
The story of the Iranian dance may be a sad history, but it is definitely not a closed chapter. The new generation of Iran, who claims a better future for herself and her motherland, will soon be taking care of and exploit this Persian heritage that has survived several foreign occupations, devastations and intolerances throughout history. This new generation has through her untiring striving and fight for freedom proved, that Iran deserves a better place in the international society. A position that it's several thousand years of culture and civilization justifies.
The foundation of Les Ballets Persans , as the successor company of the former Iranian National Ballet was stablished in 2001 in Sweden. The company, known even as the New Iranian National Ballet had its World Premiere Gala Performance at Royal Cirkus Hall on October 7th, 2002, in Stockholm.
Copyright © 2000 Nima Kiann
Last Updated: November 10, 2014

All Rights Reserved.
This material is the intellectual property of the author.
No part of this publication may be reproduced, stored in a retrieval system, or transmitted, in any form or by any means, without the prior permission in writing of the author.

eastern dance forum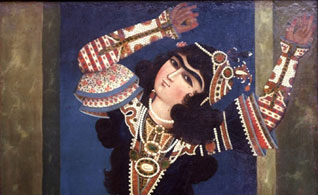 Visit Nima Kiann's Forum of Persian And Middle Eastern Dance to find more articles.